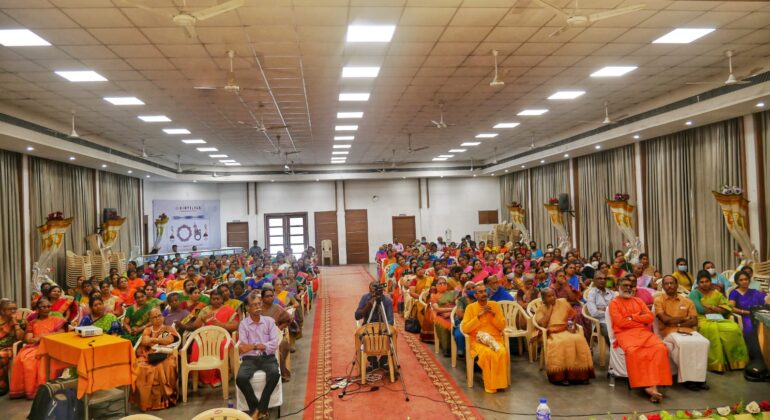 Chinmaya Devi Group, Madurai ,in commemoration with Women's Day Celebration organized a two day value camp for Women on 7th & 8th March 2022 ,at VVM Mahal,Madurai.More than 250 members participated in this mega event,which was conducted on the concept of Women Empowerment and Glory of Womenhood
Maa Shakthi began with a grand inauguration by Dr.G.Natchiar,Director,Emeritus,Aravind Eye Hospitals,Madurai.Swami Sivayogananda in his address explained the importance of the various roles and responsibilities and sacrifices by women as a daughter,mother and wife.
Sri.Varalotti Rengasamy(Sri.Sridhar),an auditor by profession and a famous writer spoke on "Love is Shakthi".The talk was well received by the audience.This session was followed by a lively and a thought provoking talk by Pattimandram Sri.Raja,who also is a professional speaker in TamilNadu.Afternoon sessions were fun filled with Essay & Poetry Writing Competitions,Quiz ,Group Activities and Games.
Day 2 (International Women s Day-Mar 8th) began with a divine talk by Swami Sivayogananda on "The Great Women from The Mahabharatha".The audience were engrossed in listening to Savitri Charitram and each and every woman were moved to tears.Dr.Girija ,a famous speaker in Madurai spoke from Lalitha Sahasranamam and gave useful tips for women to live happily.Rangoli Competitions were conducted, which exhibhited the individual talent of every participant.Group activity was meticulously planned to bring out the concept of Maa Shakthi.
The second day concluded with a Valedictory Function followed by Prize Distribution.Special Guests were invited for this function.Smt.Rathna,News presenter and Anchor from Chennai lighted the lamp and spoke on Decision Making Skills of Women.Dr.Sujatha,Principal,Subbulakshmi Lakshmipathy College of Science delivered the chief guest address.Smt.Jayasri Sreeram,District President,TAMBRAS, felicitated and distributed the prizes to the winners of various competitions.Ms.Guhakumari,Devi Group Coordinator proposed the Vote of Thanks.
Camp kits,Lunch and Refreshments were provided to all the campers on both days and Consolation Prizes were distributed to participants of the various competitions.Excellent feedback was received from the participants.This event was covered by News Dailies Dinamalar,Dinamani and The Hindu.Kirtilals ,Bhima Jewellers,Raj Mahal Silks,Pothys Textiles,VVM Mahal ,Gowri Krishna Hotels were the major sponsors of this successful event. Under the guidance of Swami Sivayogananda,Chinmaya Devi Group Madurai executed this event with great dedication and devotion